McLaren Automotive have released the first interior images of the McLaren P1 Hypercar. The McLaren P1 has headlined the news in the recent past and despite exposing the exterior of the car that borrows various cues from the MP4-12C counterpart, the interior was yet to be revealed.
These are the details; McLaren discontinued the three seat layout found in its predecessor, the McLaren F1, in favor of a more common two seat; driver – co-driver layout. Highlighting the key things in this interior, the P1 shows a shrink wrapped design theme that extends to the minimalist cabin, there is extensive use of carbon fiber throughout the cabin which maximizes weight-saving. And most notable is the interior design that bears resemblence with the cockpit of a fighter jet.
The McLaren P1 cabin is fully focused on the driver and it offers the driver and passenger a cocooning, efficiently packaged, comfortable cabin. The interior feels like the cockpit of a fighter jet complete with glass canopy overhead and with a windscreen that is deeper than it is wide. Despite the focus on weight saving and performance it retains luxury features such as full climate control, satellite navigation and a bespoke sound system, developed with Meridian.
The extensive use of carbon fiber not only features in the exterior but in the interior too, it features on the dashboard, floor, headlining, doors, rockers and a single piece is shaped for the central control unit to further optimize weight. The top layer of resin has been removed leaving the carbon non-lacquered for a more natural look and saves a 1.5kg.
You shall also notice that trim covering within the cabin has been minimized, leaving as many parts as exposed as possible, and there is no interior sound deadening in order to optimize weight saving even further. Customers can fit a carpet as an optional extra.
The diameter of the steering wheel is as technically precise as a McLaren racing driver's wheel, this was made possible by the fact that McLaren world champions' grips were modeled on a CAD system and scanned to produce an exact replica. The rim is finished in Alcantara, with carbon fiber inserts.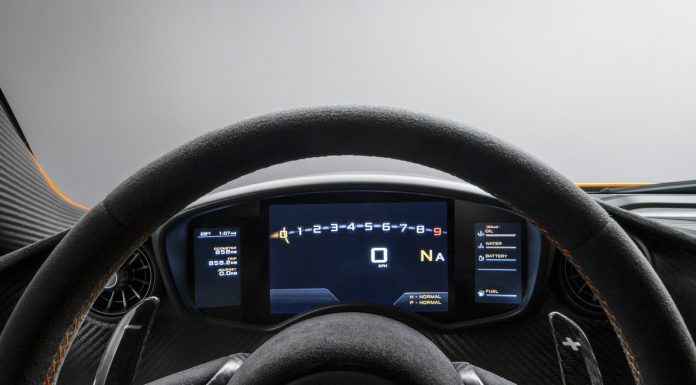 Lastly the seats, which feature top notch styling in terms of comfort and functionality, they are racing bucket seats which use the minimum amount of foam. They are encased in ultra-thin carbon shells, and mounted on lightweight brackets and runners, contributing to an overall weight of just 10.5kg each.
The seats allow various options from 28 degrees in vertical, to 32 degrees to make them more suitable for racing as it will give more helmet head room. The height of the seat will be custom set to suit the driver and passenger, and can be subsequently adjusted in the workshop. Fixings for a six-point race harnesses are in place, in addition to inertia reel seat belts.