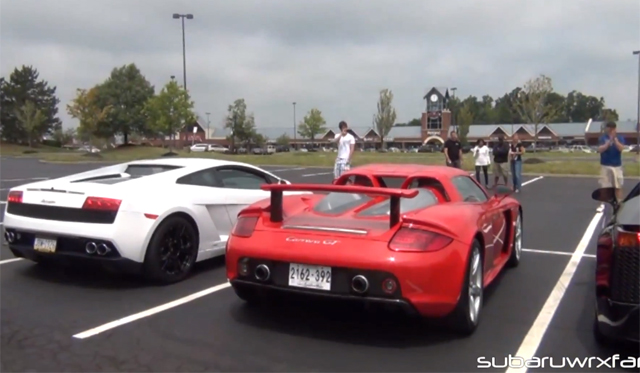 On their own, the Lexus LFA, Lamborghini Aventador, Porsche Carrera GT, Lamborghini Gallardo LP560-4 and Audi R8 V10 are some of the loudest supercars ever produced. However, what would happen if you gathered all five of these European and Japanese supercars together for one epic rev battle?
Well, you'd get the following video that's what! Filmed by Subaruwrxfan on YouTube during the Pittsburgh Cars and Coffee event on the 28th of August, 2012 it's hard to imagine a line-up of cars which could rival the symphony produced by these five.
After all, the Carrera GT has one of the most unique exhaust notes ever produced by a supercar, while the LFA is quickly making a name for itself as one of the loudest cars on the planet thanks to its high-revving V10 engine. Add to that the traditional V12-cocophony of the Aventador and the Lamborghini V10's fitted to the LP560-4 and R8 and you have a line-up producing well-over 2,000hp and featuring 52-cylinder's at full throttle!
Enjoy the rev battle between the LFA, Carrera GT, Aventador, LP560-4 and R8 V10 and don't forget to turn up your speakers!