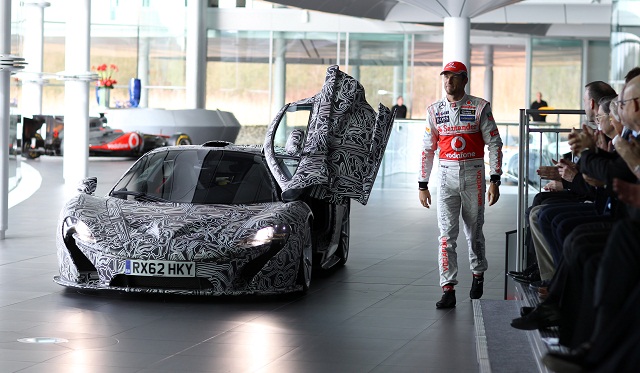 Ever the showman, Jenson Button made a classy entrance in the McLaren P1 Prototype at today's McLaren MP4-28 Forumla 1 unveiling. Its the first time that the P1 test mule has been paraded outside of testing. Instantly noticeable, the car retains many of the features we first saw in the concept at Paris last year.
The P1 followed an eclectic gathering of McLaren's most successful cars, the start of McLaren's 50th Anniversary celebrations. Jenson arrived following team mate Sergio Perez who arrived in the McLaren 12C Spider. The P1 then reversed out of the McLaren Technology centre on electric power before silently exiting the building, into a side building.
21 future McLaren P1 owners joined the assembled guests. Its the first time anyone has seen the hybrid technology working and the first time we've been able to hear the engine. No specs have been revealed yet, however, it sounds very similar to the V8 power plant found in the 12C. Widespread rumours suggest that this will be the basis for the P1 engine, with plenty more tuning and a higher power output.
Jenson confirmed that he hasn't had a hand in development of the new hypercar. Jenson commented that 'you might not have seen the P1's beauty with all those squiggly lines, but as Ron Dennis has said, it's beautiful from an aerodynamic point of view'. Jenson didn't pass comment on it other than to say that he is looking forward to driving it properly at some point.
Our next opportunity to see the P1 comes next month when we Geneva plays host to the full unveiling. Engine, interior, suspension, we get the full production package!