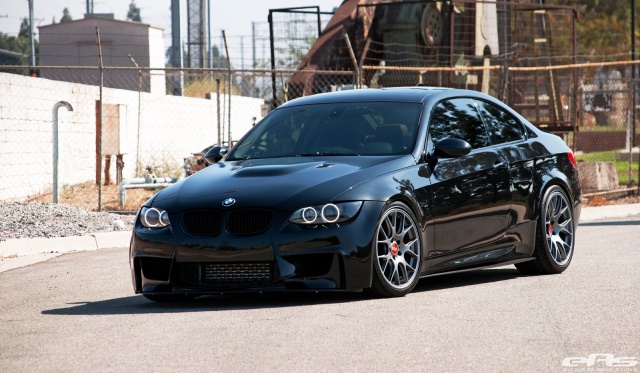 Neema's black BMW E92 335i is not new especially amongst BMW forums where he has consequently upgraded the car from time to time. Being a user of the E90Post, he has given details of his latest upgrades on the BMW and a photoshoot too.
The cosmetics will definitely gain your attention through the APR carbon fiber side skirt lip while the front has Bavarian exclusive V3 LED Halos with full blackout. There is a BMW carbon fiber rear spoiler accompanied by LED LCI tail lights. Several M3 parts were utilized including a hood, side skirts, OEM M3 quarter panels and front fenders, OEM M3 rear bumper and OEM M-Sport rear bumper.
The exterior would not be complete without a custom LTMW OEM 1M front bumper and a Dukes Fynamics carbon fiber rear diffuser. There is an IND painted keyhole cover and matte black kidney grills while the Sleks Design carbon fiber lip rounds up the cosmetics.
The BMW rolls on BBS CH-R wheels that are finished in matte titanium and have BBS red racing lug nuts. Performance is enhanced by the GIAC stage 2 tune BMS oil catch can, BMW M3 DCT steering wheels and a custom built catless exhaust. It also features Evolution Racewerks competition series front mount intercooler kit and diverter valve charge pipe not to mention the Injen SP Series dual cone intake system.
Other than that Neema has TiD Styling carbon fiber M3 DCT paddle shifters as part of his transmission while the suspension features KW Variant 2 coilover system. Macht Schnell is featured through catless downpipes, competition light-weight aluminum floor mounts and competition stud conversion kit. Still on the suspension RD sport M3 anti sway bars were used. His seats are Recaro pole position seats.