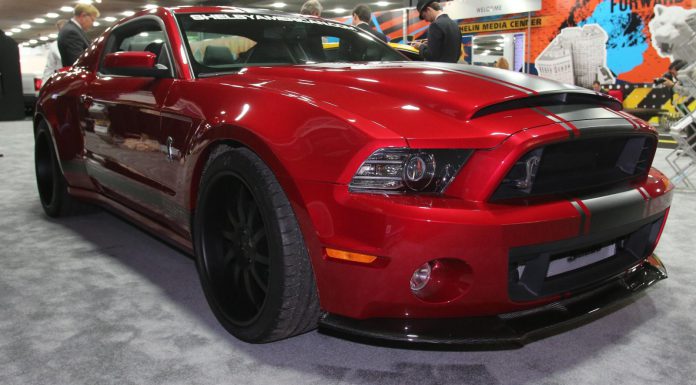 Shelby American, a division of Carroll Shelby International, unveiled its new 850 horsepower 2013 Shelby GT500 Super Snake Wide Body at the 2013 Detroit Motor Show.
Shelby utilized the stock 662 horsepower 2013 GT500 by boosting its performance to a street-legal 850 horsepower while ensuring that it is legal and tuned on 91 octane pump gas suitable in all states. They then added the wide body package; customers will get the Super Snake in satin black, gloss white, silver, blue and red stripes and also for the first time, wheel options include a rear-only or front and rear wide body packages.
The Super Snake is also fitted with 13 inch wheels in the rear and 10 inch wheels in the front that are wrapped in serious rubber to enable for more traction. The package comes with an added cost, as for the 662hp 2013 Shelby GT500 Super Snake; one will add an extra $28,995 over the base GT500. The more powerful 850hp 2013 Shelby GT500 Super Snake package costs $39,995 while the wide body kit costs $14,995 not including the base GT500.