One of the most common complaints about the Subaru BRZ has been in regards to its 200hp engine. Many automotive reviewers believe that the car is simply underpowered, and although it and its twin-brother the Scion FR-S/Toyota GT 86 have managed to win multiple automotive awards, the car is not perfect.
Well, Weapons Grade Performance has set out to rectify the aforementioned problem not by turbocharging or supercharging the BRZ, but by instead completely disregarding its 2.0 liter boxer, four-cylinder engine and replacing it with an LS2 V8 engine from the Pontiac GTO which produces no less than 400hp.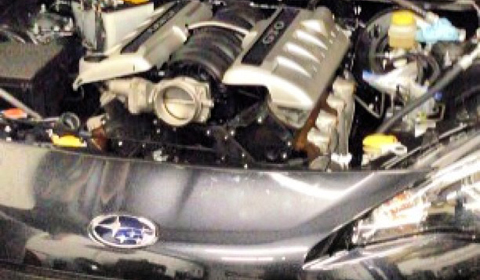 Even though this engine inevitably weighs more than the stock four-cylinder unit, the power-to-weight ratio of this particular BRZ would have been improved comprehensively.
Believe it or not, but Subaru recently confirmed that the BRZ STi due sometime next year wouldn't feature a turbocharger because there was not enough room to fit an intercooler in the car's engine bay. Well, Subaru could learn a thing or two from Weapons Grade Performance who managed to fit the engine without modifying the bodywork, or even fitting a hood scoop to the car!
Unfortunately, no other photos of the car have been released just yet, but when they are, we'll be sure to bring them to you!