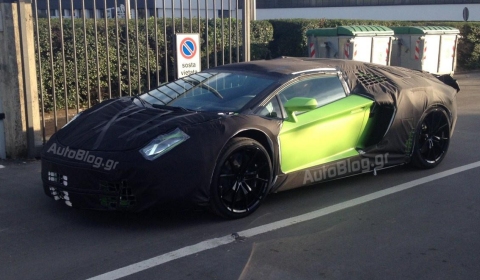 Lamborghini's upcoming roadster variant of the already quixotic Aventador is set to be unveiled sans-camouflage sometime next week. And while November 12th may be just a few short days away, Autoblog Greece have spotted a lime green Aventador Roadster getting a few more days of testing in before it lays it all out for bare.
Expect power, gearbox and options lists to remain relatively status quo. Naturally, the roadster will share the same 6.5 liter V12 producing, as near as makes no difference, 700hp. Expect the usual affair in terms of gearboxes. The Aventador's seven-speed transmission and 0-60 times should be almost identical, with only a better soundtrack for those savage upshifts.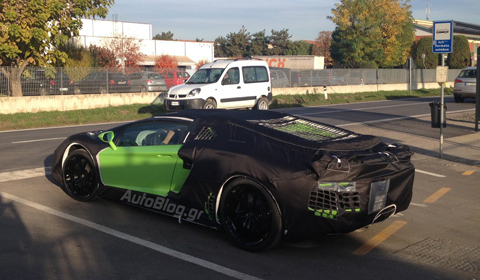 Current speculation points to a removable, two-piece carbon fiber roof. The choice for a removable hard top is two-fold. It allows for a streamlined manufacturing process, as the rear section of the Roadster will be identical to that of the standard car.
The hard-top also provides for a more aesthetically pleasing, weather-withstanding structure than that offered by a manual or automatic rag top. Owners can only hope it won't be as fiddly as the Murcielago's nail-biting cloth tent. All will be told on the 12th, however, so check back then for the full Aventador Roadster experience.
Expect to see the official, worldwide debut of the car at the Los Angeles Motor Show on November 28th. The reported November 12th date is a special, VIP unveiling set for a location in Miami, Florida.
For a complete set of photos, check out Autoblog Greece.