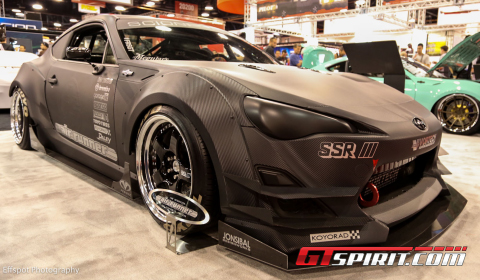 The American car maker Scion displays three custom versions of the FR-S at their SEMA 2012 booth. They gave three custom-car builders each a 2013 Scion FR-S and a check for $15,000 to come up with something special in a challenge. Each FR-S has its own story and is part of this year's edition of the SEMA show in Las Vegas. The most noticeable difference between all three are the packages fitted to the cars. There is a dark racing version, along with two other cars that received custom body kits and some interesting paintjobs.
First up is the FR-S GT by Daniel Song, which has been wrapped in a carbon fiber vinyl and fitted with a racing-styled body kit. The rear wing, mirror housings, and hood ducts are made of carbon fiber. A Vortech supercharger has been fitted to the 2.0 liter flat-four including a cold-air intake. A straight exhaust with centrally located custom tips, an air suspension with adjustable shocks and 3.6 inch Brembo discs squeezed by Brembo four-piston calipers finish off the technical highlights. On the inside, the cabin features a roll cage, a solitary Sparco race seat with four-point harness, and a Sparco suede steering wheel.
The second model is the Minty FReSh by Chris Basselgia. The menthol-colored sports car is fitted with Matte Root Beer roof and 19 inch wheels. The Minty FReSh also boasts an Eaton supercharger, a new intake manifold, and adjustable air suspension. Other upgrades include a body kit, a spoiler, a rear diffuser, a custom central exhaust, and a special leather interior. The cabin has a Sony touchscreen display controlling the JL audio system featuring two amps and four mid-range woofers.
The third and final model is the Toca Series Carbon Stealth FR-S by John Toca. Carbon fiber bits replace the production hood, roof, mirror caps and the rear diffuser. The Stealth also gets an aero kit, custom grille inserts, and new fender vents. The Mocha painted FR-S's interior has custom black faux suede headliner with blue stitching. The blue thread is also used on the pillars and the door panels. The custom leather rear seats, custom carbon-fiber dash inserts, custom gauges, and a custom center console finish off the package.
On the technical level the Toca FR-S got a Vortech supercharger, a new cold-air intake, an intercooler, and a Borla cat-back exhaust. Improved braking power is achieved via 14.0 inch discs squeezed by eight-piston calipers in the front and four-piston calipers in the rear. The final upgrades are a roll cage and 19 inch satin-black wheels shod in Pirelli P Zero tires.
Scion has announced that Mr. Basselgia's "Minty FReSh" car was the most well liked by the judges. He has won the Scion FR-S Tuner Challenge.
[Photos by Effspot Photography]