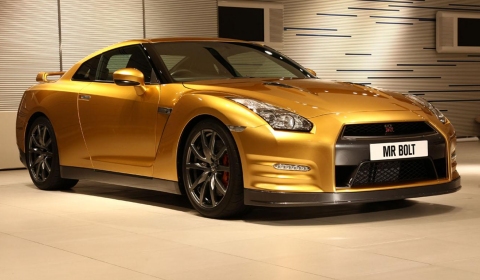 Usain Bolt, the world's fastest man and champion Olympic sprinter, has teamed up with Nissan to develope a special "Bolt" version Nissan GT-R. Bolt has also become a brand ambassador for Godzilla and will get his own special "Bolt GT-R" for personal use.
In recognition of Bolt's contribution to sports and his automotive enthusiasm, Nissan's Chief Operating Officer unveiled a unique gold-painted GT-R, which will be auctioned to benefit the Usain Bolt Foundation. The one-off GT-R, to be auctioned on the eBay online auction platform, will be embossed with Bolt's signature and bespoke interior fittings finished in real gold.
Proceeds from the online auction, details which will be announced later in October, will help the foundation's work creating educational and cultural opportunities for children and young people in the Olympic Champion's home country of Jamaica.
Additionally, Bolt will start work with Nissan product specialists on a limited edition version which can be ordered in markets where GT-R is available. Details of this project will be announced at a later stage.