Jaguar has finally officially revealed their brand new F-Type model; a two-seater, convertible sports car focused on performance, agility and driver involvement. Featuring Jaguar's rigid and lightweight aluminium architecture, the F-Type has ideally balanced weight distribution.
Three variants will be introduced to public at the Paris Motor Show tomorrow and are available at launch; F-Type, F-Type S and F-Type V8 S. Each is distinguished by the power output of its supercharged petrol engine with all engines featuring stop/start technology.
A new 3.0 liter V6, developed from Jaguar's 5.0 liter V8, is available in either 340hp or 380hp variants, powering the F-Type and F-Type S respectively. The V6 models are joined by a new member of Jaguar's V8 engine family. Producing 495hp and 625Nm of torque in the F-Type V8 S model. The engine offers a torque-to-weight ratio of 375Nm/tonne, accelerates to 100km/h in 4.3 seconds and on to an electronically limited top speed of 300km/h.
The 380hp V6 F-Type S covers the 0-100km/h in 4.9 seconds and has an electronically limited top speed of 275km/h. The 340hp V6 F-Type accelerates to 100km/h in 5.3 seconds and on to an electronically limited top speed of 260km/h.
All engines drive through an eight-speed Quickshift transmission, a centrally mounted joystick-shaped SportShift selector offering full manual sequential control, as do the steering wheel-mounted paddles. The V6-powered S model also includes a Dynamic Launch feature. If Dynamic Mode is also selected on the Jaguar Drive Controller, the transmission will not automatically shift up at the redline and will only downshift to prevent engine stalling, leaving control fully in the hands of the driver.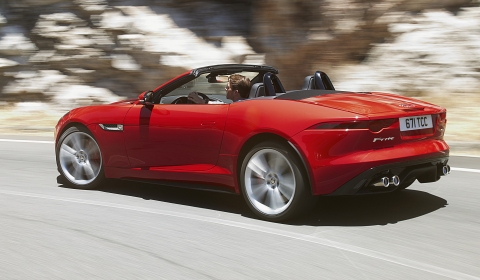 Both the S models have a limited-slip differential, the V6's is mechanical and the V8's is electronic. They also have an Active exhaust system, which is optional on the 340hp V6 model. Valves in the exhaust system open under load from 3,000rpm. An optional Configurable Dynamics programme allows the driver to tailor a number of the dynamic features to personal taste and includes lap timer and G-meter functionality.
Exterior highlights are the frontal Jaguar grille, bi-xenon headlamp lights and integral LED daytime running lights, full LED rear lamps and an active rear spoiler which deploys at speed to reduce lift by up to 120kg. The total weight of the F-Type is just 1,597kg.
The tailpipes provide an opportunity to differentiate between the V6 and V8 variants. V6 models feature a twin center tailpipe treatment in a nod to past Jaguar sports cars. The biggest and boldest exhaust finishers ever fitted to a Jaguar, these are stamped from one piece of stainless steel creating an unbroken surface. The V8 model is marked by the use of the signature quad, outboard-mounted tailpipes as seen on XKR and XFR models.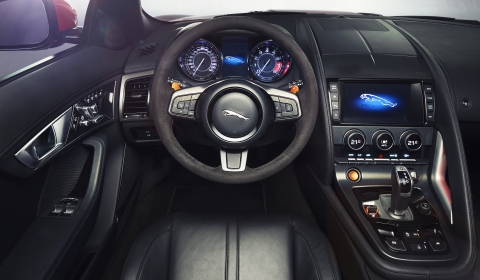 The V6 model is marked by satin black trim elements in the grilles, vents, front splitter and rear valance while the two 'S' models receive gloss black finishes in these areas. The V6 model sits as standard on 18 inch alloys, with 19 inch and 20 inch wheels optional, these being standard for the S and V8 S respectively. The range-topping V8 S also receives additional aerodynamic addenda with front vanes beneath the shark gills and flat side sill extensions.
The F-Type is equipped with a traditional fabric, rather than metal, convertible roof. The hood itself can be fully raised or lowered in just twelve seconds at speeds of up to 50km/h. Inside the cabin, the F-Type's driving position is 20mm lower than in the Jaguar XKR-S and features a driver-focused philosophy.
The entry level Jaguar F-Type with the 340hp engine gets a list price in Germany of €73,400, the F-Type S with the 380hp engine costs €84,900 and the range-topping V8 S will come in at €99,900.