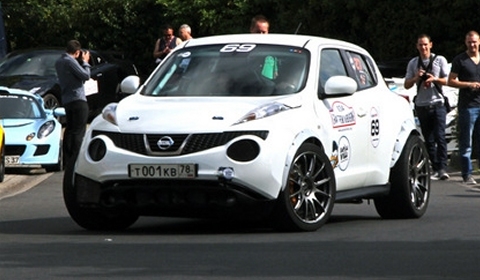 What do you do when the future Nissan Juke-R production is only limited to a small number of cars at ridiculous price tag of about 500,000 euro? Exactly, you built your own Juke-R! Russian company called Shpilli Villi engineering created their personal Nissan Juke-R fitted with a tuned 800hp Nissan GT-R engine.
The special one-off Juke-R engine has been tuned with HKS turbos and will produce 700+ hp on normal pump gas. On 109 Octane it will produce 800hp. The massive rear tires and complete GT-R interior make this Russian Juke-R an unique creation.
The vehicle attended the Gran Turismo Nurburgring 2012 September Edition event this last weekend. TrackandTuner.com got opportunity to fit their cameras onboard for a lap around the Nurburgring Nordschleife. Due to the massive tires it is hard to get some heat into them so the driver took it easy, but the loud sound and accelerations are pretty impressive.