It was only a matter of time. Although for the SRT Viper, we expected it to come a little later. SRT have not yet delivered a customer car! Thankfully though, the car in question is the SRT Viper GTS-R which crashed yesterday at the American Le Mans Series in Baltimore. We expect it to be back for the next race though, so it isn't a major issue!
The accident happened in the hands of Dominik Farnbacher when the number 92 car hit the wall during a practice session. Unfortunately this means that it won't run during the headline race, which is unfortunate for SRT, the headline sponsor for the event. It means that modifications made to the car won't be fully tested too.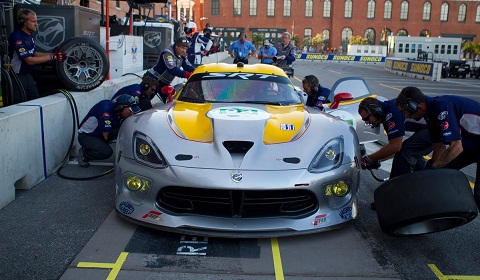 The driver walked away uninjured fortunately. Farnbacher says:
We went out on sticker tires and I had two laps to warm up the tires. I was basically on a flyer. I was overtaking a GTC car on the right side going into the right turn. I took a little bit of a different line than before because I was overtaking the GTC car. I think on the inside there was one bump which upset the rear. I lost the rear and I counter steered. Then I lost it to the other side and the car went basically toward the wall. I could not save it anymore. Just sorry for my team.
[Via Michelin]