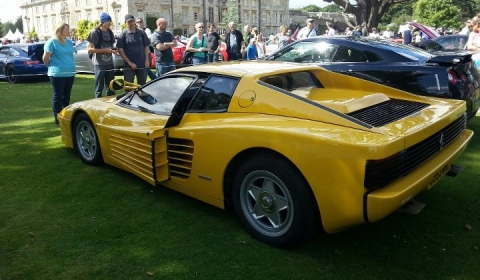 One of the highlights at the Wilton Classic and Supercars 2012 is the rev battle between a large number of super- and hypercars parked at the grounds of Wilton House. This year an outsider took the number one position. A yellow Ferrari Testarossa with straight pipes produced an astonishing 127db from its four exhaust pipes.
Second and third place were taken by a White Pagani Zonda F Clubsport and the Red Ferrari Enzo from Autofficina, last year's winner. They both produced 126.6db. Fourth place was the Green Aventador with 122.7db. The Italian is fitted with the Newport Beach aftermarket exhaust.
The Wilton Classic and Supercars event is an annual supercar show at the Lord Pembroke's Wilton House in the south of the United Kingdom. A large group of hypercars, supercars and sports cars are displayed among historical cars and displays by clubs and brands. Visitors from across the UK visit the event and enjoy the parade lap in front of the Wilton House. The owners challenge themselves on the local hillclimb.
This is the winner; the Yellow Testarossa.