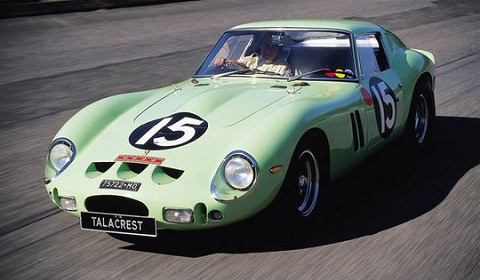 Reports are coming through of another Ferrari 250 GTO sale, this time, valued at $ 35 million. This makes it the most expensive private transaction involving a car. Dutch-born businessman Eric Heerema is rumoured to have sold his 250 GTO to US-based classic car collector Craig McCaw.
The car in question is an apple-green example, built in 1962 for Stirling Moss and his UDT-Laystall race team. The car never raced at the hands of the British legend though as Moss suffered a career-ending crash at the Goodwood circuit in Sussex on April 23, 1962. The car reportedly still features Stirling Moss' signature on the drivers seat. The chassis number is 3505, and it is right hand drive.
Values of Classic Ferrari's have rocketed in recent years with several high profile sales that seem to defy the economic realities. Examples include the Series II car that Chris Evans reportedly paid $ 18 million for in 2010. More recently a 1963 Ferrari 250 GTO was sold for $ 32 million by Jon Hunt, former chief executive of the Foxtons real-estate group. It is thought that the previous record belonged to Peter Mullin who reportedly paid $ 34 million for a 1936 Type 57SC Bugatti Atlantic.
This Ferrari 250 GTO was a Series I vehicle. 36 Series I Ferrari 250 GTO's were built by the factory with a further three Series II bodied cars arriving later on and four Series I cars being converted to Series II body types. The cars feature the 3.0 L V12 engine from the 250 Testa Rossa producing 300hp with a five-speed manual gearbox.
[Via Bloomberg, Picture MotorWard]