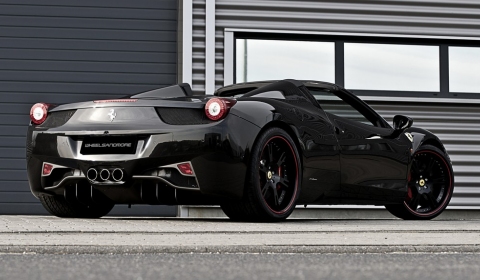 Wheelsandmore has released its Ferrari 458 Spider program entitled Perfetto. For the exterior the German tuner offers full carbon fiber parts as a rear diffuser, fuel cap, rear fog lamp frames, mirrors and spoiler fins.
The interior, trunk and engine compartment is refined with side panels, a custom-fit trunk tray and a final panel for the rear window trim. Even the wheelhousings and the entire under-floor can be refined by fitting carbon fiber components with a matte finish. Using all elements of the Perfetto program will reduce the vehicle´s weight around 30kgs.
The Spider is fitted with a new performance stage III and a power increase of 26hp and 19Nm up to a final 647hp and 635Nm of output. This increasement is achieved by installation of manifolds, valve-controlled exhaust system, a software upgrade and a carbon-airbox.
The creation is completed due customizable forged rims of the type 6Sporz², which are finished sizing 9.0×21 inch with 245/30/21 inch tires on the front and 12.5×21 inch with 345/25/21 inch Hankook S1Evo tires at the rear axle.