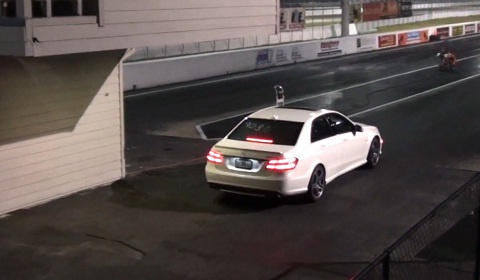 Not content with producing the fastest Mercedes-Benz in the world, we think Renntech are slowly working through the model range producing the fastest variants of every AMG model! The video below shows the Renntech Mercedes-Benz E63 AMG setting a staggeringly fast quarter mile time of 11.15 seconds at 126.7mph (204km/h) compared to the standard 12.06 seconds at 116mph on stock tyres.
The project is still ongoing so we can expect better and better times as more modifications are made. Before the modifications were made, the owner dynoed the E63 producing figures of 555 horsepower and 545lb-ft of torque (471.09 horsepower and 463.80lb-ft of torque at the wheels). 40 horsepower and 40lb-ft more torque than OEM claims.
After fitting stage one of the tuning kit, a Renntech ECU upgrade, the team dynoed the car once more. This time they got 578.33 horsepower and 621.93lb-ft of torque at the wheels (680 horsepower and 732lb-ft of torque at the crank). Over 100 horsepower of power gain with just a simple ECU tune!
The video you see below was shot at Palm Beach International Raceway in Florida in temperatures around 80 degrees fahrenheit and with damp conditions. As we already said, the car was completely stock with stock tyres and a stock exhaust. This is claimed to be the fastest Mercedes-Benz E63 AMG, however, we're sure there are faster vehicles out there.
It goes to prove the versatility of Mercedes-Benz E63 AMG V8 BiTurbo engine. If a simple ECU tune can unlock so much power, imagine what a full complement of tuning products could do! We look forward to seeing more.