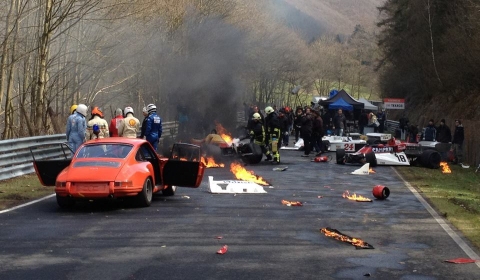 American film director, producer and former child actor Ron Howard is making Rush, a film about the F1 rivalry between Niki Lauda and James Hunt in the 1970s. For those of you who do not know Ron Howard, he is known for films like Apollo 13, A Beautiful Mind and The Da Vinci Code.
Today they filmed at the Nurburgring, Sean Edwards was on set and BTG made a video from the side of the track where the crew filmed the near fatal crash of Lauda during the first lap of the 1976 German Grand Prix.
During the first lap, Niki Lauda's Ferrari 312B2 spun and hit an embankment off the side of the track. His helmet became dislodged form the impact, and the car fuel tank ruptured. The car was then hit by another, and it caught fire.
Niki Lauda escaped with his life thanks to the combined actions of fellow drivers Arturo Merzario, Guy Edwards, Brett Lunger and Harald Ertl rather than by the ill-equipped track marshals. At the time, safety vehicles took about ten minutes to reach the driver, since the accident occurred several miles along the circuit.
Lauda suffered severe burns to his head and inhaled hot toxic gases that damaged his lungs and blood. Although Lauda was conscious and able to stand immediately after the accident, he later lapsed into a coma.