Motoren Technik Mayer, MTM for short, has been on our list of tuners for a pretty long time. One of their latest projects was handed to our chief editor at the end of last year for a four-hour test drive. The MTM Audi RS3 Sportback is a development based on the standard Audi RS3 Sportback, which is available in Europe since early last year.
For those familiar with our stories on the RS3 and TT-RS – both stock and from MTM – there is not a lot to tell, but for anybody else that did not read our reviews or has forgotten the scope of our stories, we will recap our experiences.
Every RS3 and TT-RS is in essence based on the same principle. Combine the wonderful 2.5 liter TFSI five-cylinder engine with the quattro all-wheel-drive and fit that into a sportback, roadster or coupe bodywork. MTM took this principle forward and improved every single part of its technical setup and finishes it off with a large bimoto wheelset and black/orange exterior cosmetics.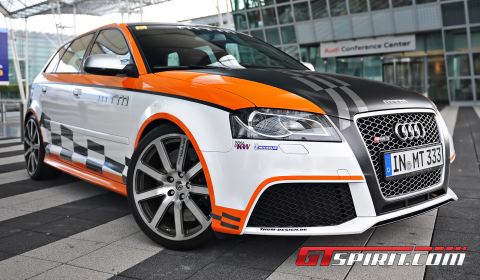 Under the hood, customers can opt for three stages of tuning. The first package takes the 2.5 liter turbocharged inline-five generating 340hp and 450Nm of torque, to an output of 410hp and 550Nm, using nothing but ECU fettling. The second stage kit takes things a bit further with new downpipes, a metalcatalyst and reinforcement for the standard intercooler. The outcome is 424hp and 560Nm torque. The final package – fitted to our test car – offers 472hp at 6,600rpm and 625Nm of torque at 4,100rpm. The only difference with the second stage is the addition of a new turbocharger. Top speed increases to 292km/h with the Vmax limiter removed and a sprint from zero to 100km/h is done in four seconds, 0,6 seconds faster than stock.
The improved performance asks for additional stopping power. Two packages are available, but our test car was fitted with the top of the line setup; a Brembo brake kit with 380x34mm front disks, eight-piston Brembo calipers and stainless steel breaklines. An increased engine sound production is achieved by the MTM exhaust system turbo back stainless steel system with throttle valve and controller. The system is optimized in exhaust gas back pressure and offers a more sonorous sound track. The end pipes have a diameter of 89mm.
For customers asking more track-biased handling tuning, MTM has a Haldex performance system – case Gen 4 – on offer, which is used to monitor throttle input, ABS wheel speed sensors steering angle and to anticipate and distribute torque transfer from the engine to the driveline. The system reacts to these dynamic changes creating more favorable or aggressive handling characteristics. The main purpose of the system is improved chassis and stability control using three modes; race / sport / street.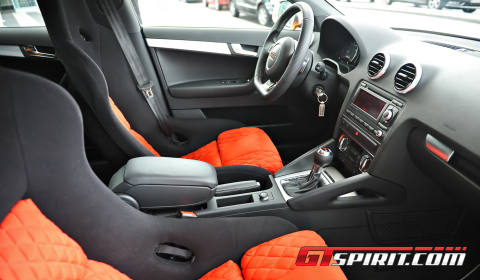 The stock torque balance, between 40-60 percent, is changed by the Haldex unit offering a quicker transfer to the rear wheels. Not something you will easily use on the road, but which provides better handling on a track day. For those in favor of such a system, only choose it when you are planning to do some decent cornering or laps.
The Wettstetten-based tuner complements the package with a new set of bimoto rims with a nine-spoke race design. Our test car was fitted with shiny silver 19 inch wheels in sizes 8,5×19 ET50. The MTM RS3 Sportback rides on 255/30 19 XL Sport Continental tires at the front and 225/35 R19 at the rear. They provided the highly requested contact to the road, while converting the increased power to the tarmac. The wider front wheels cope with the increase of power and counteract the increase of understeer.
Compared to the standard setup from Ingolstadt, this Audi RS3 is in a different league with its enhanced performance and handling. The MTM RS3 feels sharper, more agile and capable of being a sports car for everyday use in city traffic up to high-speed Autobahn madness. The total technical package is available for up to one fifth of the stock price (without taxes), which makes it an ideal package for owners requesting an upgrade of their RS3.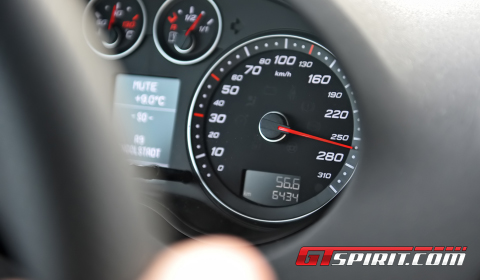 Within its segment there were no other options, according to our review of the standard RS3, but MTM proved us wrong. The well resolved package has only been improved, not touching the fine refinement Audi offers out of its factory. This RS3 excels even more in practicality and power delivery and characterizes what tuning stands for; improving the car's abilities in every single way.