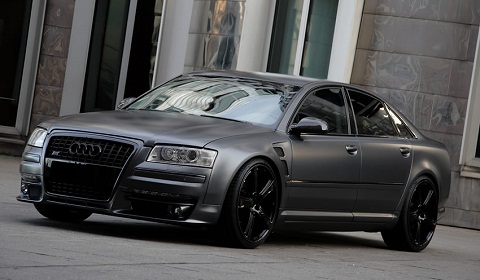 Anderson Germany have unveiled their latest customer project, based on the D3 Audi S8. We're assuming that this is a customer project as only images were available for us to pass on. However, you'll see that a lot of attention has been focused on the individual parts of this kit. This is an unique S8.
As you'll notice, it's based on the previous-generation V10 Audi S8 as opposed to the V8 Audi S8 recently put into production. Attention to the smallest details means that this example gets carbon fiber side mirrors, an individual Anderson Germany bodykit, smoked rear lights, carbon fiber grille surrounds, blacked out chrome accents and an unique interior.
To finish off the look, a matte black paint job has been added as well as a set of black rims. Inside there's plenty of carbon fiber and a quilted leather design for the seats.
If you want to know more, contact Anderson Germany.