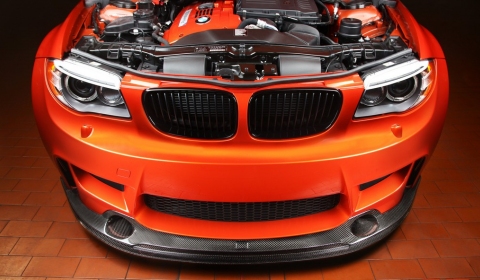 US tuner IND released their program for the BMW 1-Series M Coupe. The package was created for a client, a BMW M fanatic, who bought a Valencia Orange BMW 1M. The 1-Series M Coupe was sent directly to IND's facility, before being delivered to their client.
IND's mission was a clear! They had to build the best performing, most eye-catching 1M possible, and do the job in exactly 48 hours. Many of the parts to be installed on the car were either prototype parts, or specifically selected because the manufacturer was early to market, and they knew some adjustments would be necessary.
The original hood was removed in favor of Seibon's power dome equipped carbon fiber piece. The Seibon hood and paint scheme are a direct result of our client's own creative direction. IND added gloss black front and side grilles to eliminate the car's only chrome trim. RevoZport provided their two-piece adjustable front lip and two-piece rear diffuser, giving the car an aggressive appearance.
On the technical level IND coupled Eisenmann's downpipe-back exhaust system with Akrapovic downpipes for a power increase over the 1M's already formidable M-tuned engine. ESS Tuning provided software to optimize the power further, making this 1M an outright rocket. Rogue Engineering delivered a specific one-off short shifter, and IND installed KW's height adjustable sleeve kit to give this 1M flexibility in its height setting for year-round use.
IND provided some of additional one-off pieces by adding a color-coded Valencia Orange steering wheel trim, a special Valencia Orange striped BMW Performance steering wheel, a BMW Performance rear spoiler with an M3 CRT style paint scheme, and a M badge finished in gloss black with hand-painted Valencia borders. They even finished the car by applying a custom paint scheme to the car's already beautiful engine cover.
[Via BMWblog.com]