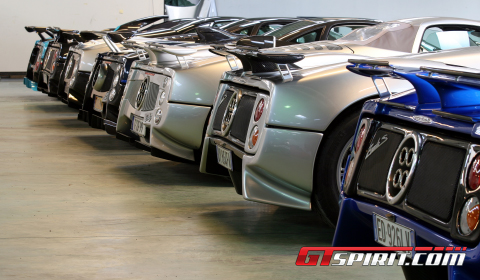 As a follow-up of our story on the Pagani Automobili factory visit we can now present you with the exclusive photo shoot we had with 10 Pagani Zondas parked inside a Pagani warehouse that over the next year will be converted to their new factory.
The hall in San Cesario sul Panaro near Modena, Italy housed an extensive lineup of Pagani supercars. For GTspirit all Pagani Zondas were nicely parked side-by-side for a great combination shot. In total over fourteen Pagani models were shown to us but not all could be captured on photo. Eight Zondas were parked in one single line side-by-side. Two Pagani Zonda Rs accompanied the group of Zondas. Both non-street legal customer cars are part of the limited series of fifteen Zonda R cars to be made.
The gallery above gives a complete overview of the Pagani Zondas that we caught in front of our lense, including two Pagani Zonda Rs, a Pagani Zonda Uno, a Pagani Zonda Tricolore and many Pagani Zonda Fs. Over the coming days we will come back with a story showing all the pictures of the Zonda R and from the development area.