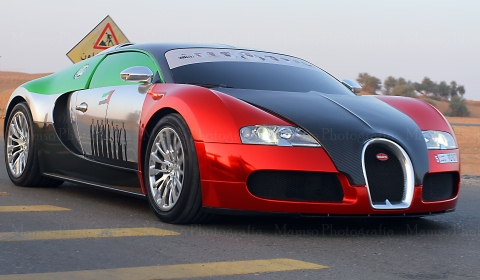 The 2nd of December 2011 marks the 40th anniversary of the establishment of unity between the seven founding fathers of the United Arab Emirates. To celebrate this event and the special day, several petrolhead and car enthusiasts decided to come up with a special wrap for their cars.
This is the first example; a Bugatti Veyron in the colors of the UAE flag and with the seven founding fathers on its flanks. During the photo shoot it was accompanied by a special matching Mansory G-Class.
The UAE's 40th National Day celebrations are being planned as a 40-day programme. A diversity of projects and events are in preparation at a federal, emirate and local level. The key objective is to collectively celebrate this important milestone for the nation and all the people that call the UAE home.
Do expect to see more special cars over the upcoming days when owners take them for a ride. The GTspirit team wishes all the people that call the UAE home a happy 40th UAE National Day!
Photos via Mamso photografia