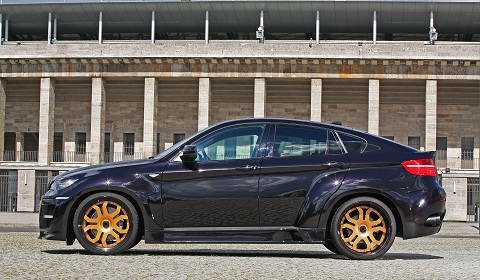 CLP Automotive have unveiled their design for the BMW X6 E71. It's an aeordynamic kit primarily with cosmetic features added to give the car its distinctive look.
First, CLP Automotive took to widening the track by 50mm. This gave to X6 a more imposing look. To this, they added a wide-body aerodynamic kit, named 'Bruiser'. This includes a front apron with a central air shaft, wider front fenders, redesigned side skirts with unique door panels and a widened rear fender and rear bumper set. It can be finished with paint or alternatively, with exposed carbon fiber.
Headlight covers and a rear spoiler are available also available as optional extras we have been told. The 'Bruiser' has an in-house exhaust system, developed by CLP Automotive. A suspension adjustment has also been made to bring the car lower to the ground for a sportier appearance.
German-manufactured, Diamond-cut aluminum wheels called 'Golden Calw' have been added in 11×23 inches size at the front and 12.5×23 inches at the rear axle with the corresponding tires. These have been finished with gold paint.
The price for the complete kit is just below € 10,000 including VAT, but excluding installation work and MOT.