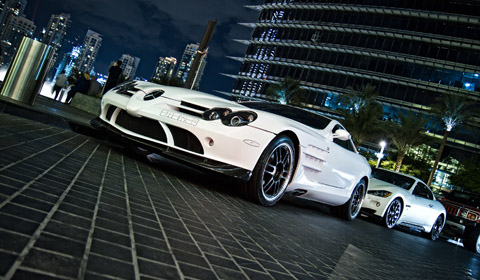 Dubai is literary a hotspot, not only for the temperatures, economic buzz, leisure activities or skyscrapers. But the city and emirate in the United Arab Emirates is also a hotspot for exotic cars, like the Mercedes-Benz SLR McLaren 722 Edition which was spotted in the wealthy emirate. Notice the personalized license plate from Saudi-Arabia featuring '722 SLR'.
The Mercedes-Benz SLR McLaren 722 Edition was unveiled in 2006. The '722' refers to the victory by Stirling Moss and his co-driver Denis Jenkinson in a Mercedes-Benz 300 SLR with the starting number 722 (indicating a start time of 7:22 a.m.) at the Mille Miglia in 1955.
The SLR 722 Edition is powered by a 5.4 liter V8 engine which provides 650hp at 6,500rpm and 820Nm at 4,000rpm. Thanks to this, the Benz is able to accelerate from 0 to 100km/h in 3.6 seconds, 200km/h in 10.2 seconds and 300km/h in 27.6 seconds, and can reach a top speed of 337km/h.
This shot was made by Sam Moores, for a high-resolution version of this picture check out his Facebook.