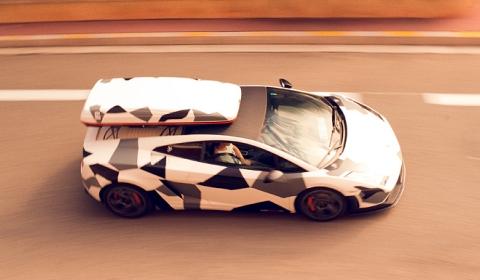 This weekend we showed you the very first pictures of Jon Olsson's brand new winter transport, named the 2012 Winter Transport aka Lamborghini Gallardo Winter Camo. Today we can show you a series of new pictures released by Oskar Bakke – Jon's personal photographer – showing even more of this unique sports car.
German tuner DMC was one of the partners behind the project, they supplied Jon's new Italian sports car with a sick looking front end incorporating an extra GT3 lip. They also fitted a brand new rear-deck lid, new lights with LED elements, a new bumper and a new rear diffuser. One item actually not shown off so far is the SV wing. A part Jon loved so much from his original LP670. He had DMC reproduce the SV wing with bindings that could be mounted on the Gallardo LP560-4. The only reason we have so far not seen it is because it would have blocked the engine bay from opening. But we're sure we'll see it soon. Autostripe fitted the new winter camouflage wrap and Östra gummi was able to find some winter tires for the Gallardo LP560-4.
The pictures show a rather unique package capable of challenging the winter of 2012. We wish Jon all the best with his new car and with all the sports events he will compete in this winter.