Traditionally, a sedan or hatchback are the way to go when you choose for a luxury vehicle to move you and your family or friends around. Choosing an estate or wagon is not the most logical luxury choice for many customers. Still, when you need more space a wagon is the best way to go, and with the basic setup of a BMW 530d we think you cannot go wrong either.
So what is the deal here. Our latest road test is a 5-Series Touring, the 530d F11 to be precise. A combination of space, versatility and a torquetastic yet thrifty 3.0 liter turbodiesel. On top of the stock package comes the ACS5 Sport program by AC Schnitzer. The Germans have fitted a wide range of options from a performance enhancement up to interior parts and from newly fitted alloys to aerodynamic parts.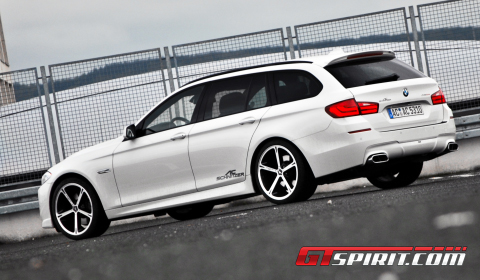 Even though the combination of a touring body and a diesel engine wouldn't be our first choice, we took the AC Schnitzer ACS5 Sport 3.0d for a trip around the town of Aachen, the hometown of the German tuner. The Alpine White 530d we tried was equipped with every possible electronic gimmick, a stiffer suspension kit by AC Schnitzer and the stock Variable Damper Control, or possibly Adaptive Drive, in either case incorporating the Drive Dynamic Control chassis configurator that has four ride quality settings to choose from: Comfort, Normal, Sport and Sport+. The settings offered us a great way of adapting our setup while cruising through the city finding a place to shoot our photos.
The 530d's 3.0 liter six-cylinder diesel engine allowed the journey to be done at effortless pace. The additional oomph added to the setup increases the horsepower to 286hp at 4,000rpm (+43hp) and the maximum torque to 620Nm between 2,000 and 3,000rpm (+80Nm). The difference in power is not readily felt by those who aren't used to the turbodiesel engine, but the spokesperson at AC Schnitzer ensured us that an additional push had been accomplished in the mid-rev range. Also a twin sports rear silencer with chromed Sports Trim tailpipe trims was fitted to the vehicle and offered us an improved sound track while cruising.
At first the Touring doesn't immediately feel that quick thanks to its 1,800kg kerbweight, but when you floor the throttle and take a glance at the speedometer it will always confirm that you're travelling faster than you initially thought. Combine this with the ride, which is as comfortable as sitting in your luxury living room at home watching your favorite television series, and you have a wonderful combination of elegance, performance and practicality.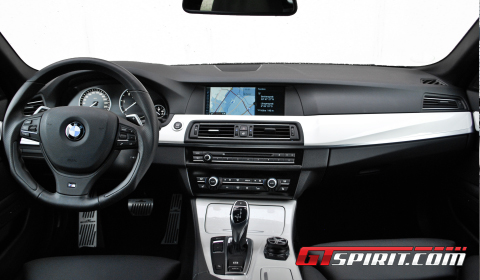 The most noticeable difference with the stock setup of the BMW 5-Series is the exterior treatment given to the AC Schnitzer ACS5 Sport 3.0d. The Germans have managed to create a complete facelift featuring front spoiler elements, a chromed front grille, side skirts and bonnet vents. For the rear of the touring they came up with a rear roof spoiler, rear skirt insert, and a new rear skirt protective foil with AC Schnitzer logo protecting the bumper against scratches. The 530d had Type IV BiColor wheels all around with sizing of 20 inches.
On the inside, the Aachen tuning specialist fitted a new sporty steering wheel with better grip and the characteristic iDrive System Controller with matching rim-type aluminum cover. The pedals and footrests also come in aluminum. Foot mats and a boot mat of velour complete the interior range. Additionally, an exclusive black interior carbon trim is available for those who fancy a bit extra.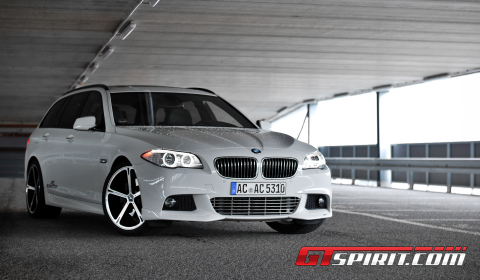 You may have noticed we did not mention anything about the 560 liters of boot size, nor BMW's EfficientDynamics technology which offers you a combined fuel consumption of 45.6mpg and CO2 emissions of 160g/km. Not one single moment during our drive were wondering in which way these numbers would affect our judgment of the luxury wagon.
Instead we were finding the best possible way to come to a final conclusion mixing the words effortless, fast, smooth, refined and quiet in one single line offering you a final statement. Somehow, these words do not easily mix into one single line, because every single part stands out and offers you more than you would expect from an economical tourer made in Bavaria.