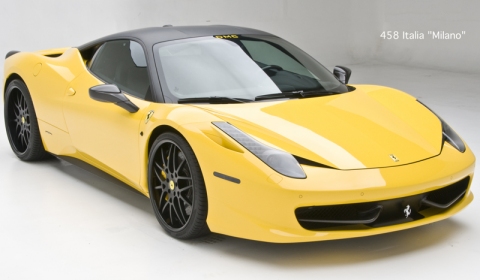 German luxury tuner DMC will officially premier its Ferrari 458 Italia Milano at the SEMA Motor Show 2011 tomorrow. The package features a body kit, engine improvement, lighter exhaust system and new wheels.
The engine tuning offers 610hp versus the regular 570 from the 4,5 liter V8 engine. Torque was increased from 540Nm to 569Nm. DMC's Italia is faster than 330km/h, compared to the 325km/h of the stock stallion.
Supporting the increased performance are the carbon fiber parts. The wings located in the front bumper were re-engineered from visible carbon fiber, just as were the side skirts, the rear diffuser and the fog-light aprons. The pair of carbon fiber mirrors are, like all other components of this kit, molded stand-alone carbon fiber parts that exchange for the OEM items.
The newly designed 458 Italia exhaust system is made from t309 grade stainless steel and has performance driven 4-2-1 headers, and valved exhaust. It comes with protective heat shields to protect the stallion from high temperatures and increase performance lost from 'heat soak'. The DMC heat shields also protect the vehicle in the case of leaking fluids igniting due to contact with the heat from an exhaust system. Compared with the original exhaust, DMC's solution shaves a 19kg off the car. A remote to manually keep the exhaust valves open is available optionally, in markets that allow for this solution.
To complete the optical package, DMC presents 21 inch rims (9,0Jx21 front / 12.5Jx21 rear) that are meant to control the newly added power and carbon lightness of the car. As for pneus, DMC is offering VA 245/30 ZR 21 and HA 345/25 ZR21 respectively, rounding up a perfect styling package for the 458 Italia.