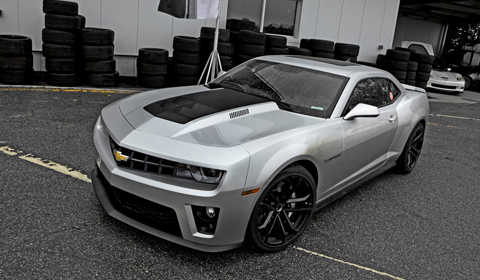 The 2012 Chevrolet Camaro ZL1 has not even entered the showrooms and already Hennessey Performance announced a performance upgrade which boosts the power up to 1,021 horsepower.
The American muscle car is powered by a 6.2 liter supercharged V8. This aluminium engine provides 580 horsepower together with 754Nm – making it the most-powerful production Camaro ever.
But these specs were not enough for Hennessey Performance Engineering. The Texas based tuner which recently celebrated its 20th anniversary, announced a range of upgrades for the 2012 Camaro ZL1. These upgrades will go as far as 1,021 horsepower, almost doubling the output of the most powerful Camaro.
The Hennessey HPE1000 Twin Turbo is the most powerful package available for the Camaro ZL1. The standard 6.2 liter engine will be replaced by a 7.0 liter LSX V8 featuring two turbochargers. Other modifications include forged low-compression pistons, new connecting rods, camshaft, Callies 4340 forged steel crank, high-flow cylinder heads, an upgraded fuel system with new injectors, an electronic boost controller, air-to-air intercooler and a stainless-steel exhaust system. The only transmission offered for the car will be a manual setup with a dual friction clutch.
The Hennessey HPE1000 package also includes exterior badging, serial-numbered dash and engine plaques, premium floormats and embroidered headrests. The HPE1000 Twin Turbo comes also with a one year or 12,000 mile limited warranty.
For those who prefer a more drivable Camaro the Texas tuner is also offering less-powerful 600, 650, 700 and 800hp variants. And it should be noticed that the Camaro ZL1 with HPE1000 Twin Turbo upgrade won't be legal in the state of California.