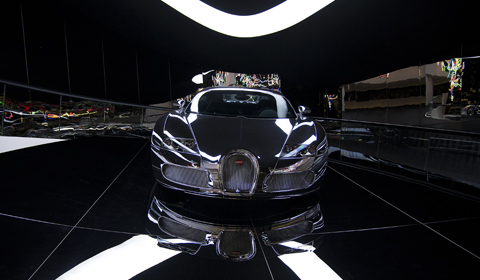 Autostadt is major visitor attraction adjacent to the Volkswagen factory and headquarters in Wolfsburg, Germany. Autostadt which means 'Car City' features attractions like a museum, many pavilions for the principal automobile brands in the Volkswagen Group, a customer center where customers can pick up new cars and much more.
One of the attractions is the Premium Clubhouse which represents the Volkswagen Group's multi-brand luxury and premium division. The building was built into a small hill. It has a marble roof and the entrance is cut into the side of the grass-covered mound. The exit is on the opposite side of the pavilion. It was designed by Ray Hole Architects.
The interior is designed by British architect Stephen Williams. He accentuated the pavilion's elliptic interior by adding a curved walkway and a lounge that virtually floats into the space. The exhibition area is characterized by the he artistic installations of Anselm Reyle and Peter Zimmermann. But the center point of attention is the mirror-finish Bugatti Veyron, which is transformed into an artwork by artist Olaf Nicolai.
Nicolai creates mental spaces in which he explores aesthetic perceptions, or as he says:
The harmonious planes and structured lines of this elegant automobile are a reflective area in which the observer sees himself reflected back ad infinitum from the mirrors, thus becoming part of the exhibit, a phenomenon of endless play-back in which both the boundaries of the space and the boundary between object and observer are blurred.
In plain English: the Veyron is being reflected over and over again. A mirror-finish Bugatti Veyron, which reminds us of the Pur Sang edition, in a mirrored room is perhaps the ultimate form of bling, but it is nevertheless also quite stylish. And in my opinion, this is pure art.