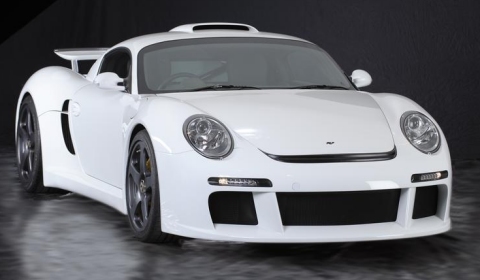 The CTR 3 has received its third major upgrade, which includes numerous technical upgrades. In April 2007, the CTR 3 was unveiled in Bahrain. While the first two CTR generations still had their engines in the rear, the new CTR 3 has a mid-engine design. The design provides balance and agile handling, while the longer wheelbase provides better driving stability at high speeds.
The CTR 3's twin-turbocharged 3.8 liter flat-six cylinder engine has now an output of 750hp at 7,100rpm. The maximum torque is 960Nm at 4,000rpm. The sequential six-speed transmission in the CTR 3 is a new design and is transversely mounted. A shift indicator on the dashboard shows the gear in use. A limited slip differential is provided to maximize performance. The front axles use MacPherson struts and an anti-roll bar. The rear axles utilize motorsport technology with horizontal coilover shock absorbers fixed over pushrods connected to the wheel carriers.
The CTR 3 rolls on forged aluminum wheels with center lock. At the front 255/35 ZR 19 inch' tires are mounted on 8.5×19 inch wheels, while at the rear 335/30 ZR 20 inch' tires are mounted on 12.5×20′ inch wheels.
The interior can be designed to the customer's taste. The aluminum gearshift lever for the sequential shift transmission is a central unit to the interior. In addition, the 260mph speedometer shows the driver that the CTR 3 is meant for high performance. The CTR 3 accelerates from 0 to 100km/h in 3.2 seconds, and its maximum speed is 380km/h.