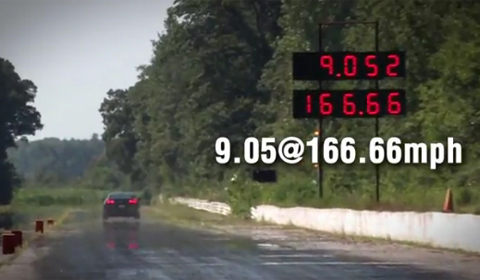 AMS Performance recently took their updated Alpha 12 Nissan R35 GT-R to the track to do some more testing. As of recent, the limits of the factory block had been reached and their engineers went to work to devise a new way of reinforcing the engine. To prove their new method, they put their car through a series of tests. Among them a traditional drag race and a dyno run. The car was placed on the dyno for over three hours in 100 plus degree heat where it produced over 1300whp at 35 psi of boost.
Upon completion of dyno testing AMS Performance took the Alpa 12 Nissan GT-R to the local drag strip where Special Projects Technician, Ivan Phipps subjected the GT-R to 10 drag passes. The Alpha 12 GT-R was spinning all four tires all the way through fourth gear on every run and not getting 100 percent traction until fifth gear. Even in these conditions the AMS Alpha 12 GT-R was able to set a record quarter mile run of 9.052 with a top speed of 166.66mph. To put that into perspective, the Bugatti Veyron Super Sport takes 9.8 seconds from 0-240km/h. The AMS Alpha 12 GT-R takes just over 9 seconds to reach 267km/h.
We knew the Nissan GT-R was fast, Top Gear confirmed that again when the stock 2012 Nissan GT-R set a Veyron beating lap time around their test track on the 17th of July 2011.
During that pass, the AMS V-box recorded a verified 60-130mph time of 3.46 seconds making it one of the fastest accelerating street cars ever. AMS has plans to go back to the track very soon under better track and weather conditions to set their time even sharper.
The record run time slip: