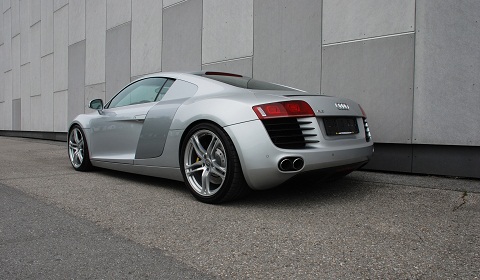 O.CT have released details on their latest package for the Audi R8 V8. They've added a supercharger to the standard mix to create a more powerful car to rival the stock Audi R8 V10 and the R8 GT.
The supercharger features a CNC mastered aluminum holding system, a tension pulley made by Good Year, a custom made suction system, an internal overflow-overpressure-system, a crank case with vent system and a modified set of toothed belts. O.CT offers one year of product warranty without restrictions on the mileage.
O.CT have also replaced the engine management with specific ECU software to maximise efficiency as well as removing the Vmax limiter. A stainless steel exhaust system is available as an option.
Power, due to the changes, is now up to 565hp and 560Nm of torque. 0-100km/h is completed 0.7 seconds faster than the OEM version. 0 to 250km/h is completed in close to 24 seconds. That's 9 seconds faster than the standard car. A kit for the R8 V10 is in the works.