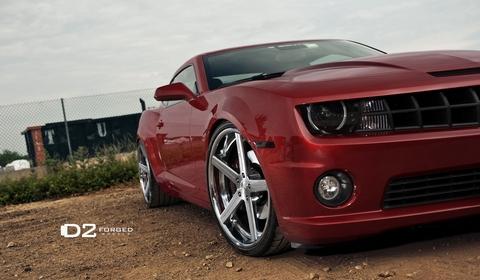 When you're on the outlook for a new muscle car, the following car is definitely one that will catch your attention. The Chevrolet Camaro SS pictured here is outfitted with an unique D2Forged wheel set. The guys from D2Forged decided to design a new deep concave wheel for the Camaro to overcome the extremely high offset.
The first obstacle was to design a wheel clearing those huge brake calipers. The second was to increase the depth of concavity. The final task was to retain a proper fitment within the stock fenders.
This all was accomplished by re-engineering the 22 inch diameter extreme deep concave forging, with completely new lathe profile and mill programs. The extensive redesign allowed the use of deeper lip sections, and wider width. Final measurements are as big as 22 x 9.5 inch in the front and a staggering 11.5 inch at the rear.
Bringing it all home is D2Forged' BBC finish which includes brushed aluminium spoke face, a set of hi-polished windows and full clearcoat with chrome lip.