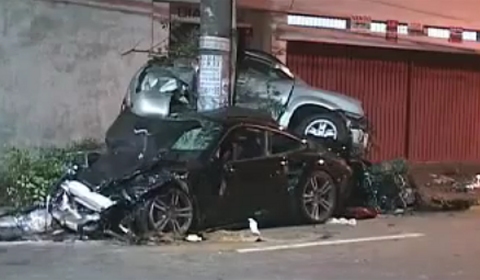 A Porsche 911 Turbo driver was charged with murder after a serious crash that killed a young woman in the south of São Paulo, Brazil. The accident happened at 2:30 AM this Saturday in the Itaim Bibi area.
According to a witness that travelled behind the victim's car, the woman crossed a red light and was hit by the Porsche. The small city car was thrown away more than 25 meters. Testimonials show that the vehicle speed at impact was more than 150km/h.
Carolina Cintra Santos Menezes, 28, died instantly. The driver of the Porsche, a 36 year-old engineer, had only minor injuries and was taken to St. Louis Hospital, where he remains hospitalized under police surveillance.
According to a police officer who was on the site, the driver showed signs of drunkenness and showed much concern with respect to the state of his German sports car. After being discharged from the hospital, he will be arrested and sent to a jail.