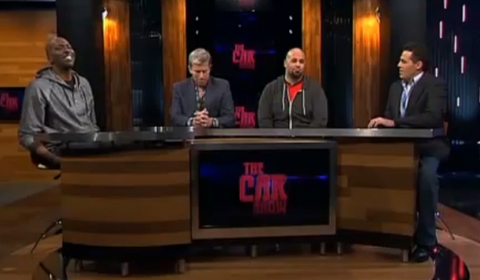 Today we received news on a new US car show. Speed Channel's new The Car Show will premiere its first episode on July 13th at 10pm Eastern/7pm Pacific time. The show stars Adam Carolla of The Man Show fame, John Salley of The Best Damn Sports Show, Matt Farah, the host of TheSmokingTire.com, and Dan Neil of The Wall Street Journal.
The show features four hosts discussing automotive news, topics, and events inside the studio. Of course it would not be a real car show without some driving as well. The hosts climb behind the wheel of high end luxury and exotic cars as well as $ 500 beaters. They also took the opportunity to interview the heros and moguls in the automotive world. Somehow this seems quite familiar to Top Gear and indeed the show is aimed as a direct competitor to the Top Gear USA show on the History Channel.
Patrick Stevenson, editor at Auto Electic, visited the taping of the first episode of the show and this is his initial opinion:
What I have seen from the pilot and the taping of this first episode The Car Show is more entertaining then Top Gear USA. Now I have only seen a few segments outside of the studio and I can say the production value has a similar feel to the high end artistic look of Top Gear. For me what makes the show so entertaining is the hosts themselves. The reason Top Gear UK is such a hit is the dynamic the hosts have together as a group. This is the critical piece that Top Gear USA lacked in the first season. The segments were great but the personalities were a bit stiff and felt forced. As a viewer I was always comparing the three hosts to their UK counter parts. On The Car Show the hosts personalities come together so naturally. The exchange of trash talking back and forth on and off camera had myself and the rest of the audience laughing.
Stay tuned for more and make sure you check out the first episode of The Car Show on Speed Channel.