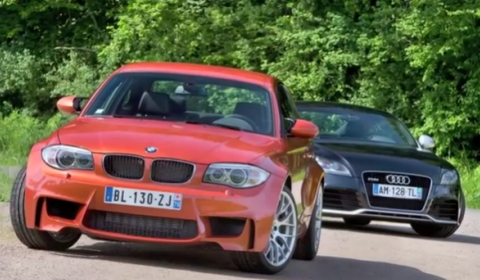 French Motorsport Magazine has released a video showing a versus between two German sports coupes; the BMW 1-Series M Coupe and the Audi TT-RS. The French took the vehicles to a track and showed their skills on board both vehicles. The results is shown below in the video clip.
The Audi is equipped with a 5 cylinder TFSI engine delivering 340hp. The TT-RS Coupé goes from 0 to 100 km/h in 4.6 seconds, the Roadster needs just a tenth of a second longer. As on most German cars a limiter kicks in at 250km/h upon request this limiter can be removed.
The 1M Coupe comes with a six-in-line twin turbo engine creating 340bhp together with 450Nm of torque. The power is derived to the wheels via a manual six-speed clutch making a sprint from standstill to 100km/h (62mph) possible in just 4.9 seconds and reach a topspeed of 250km/h (156mph) in about 30 seconds.