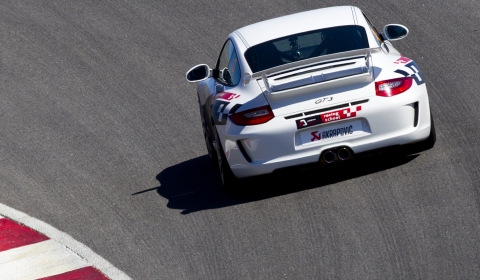 The final clip in our series of Akrapovic Portimao videos includes the Porsche 911 GT3 outfitted with an Akrapovic Evolution exhaust system, titanium tail pipes and rear carbon fiber lip.
We took the ultimate track-biased sports car for some laps at the Portimao circuit in Portugal and the sound production inside the cabin was high class music to any petrolhead's ears. The Evolution exhaust tune reaches the sound production of proper race car only mend to be driven on the track.
The number of exhaust systems available for the Porsche 911 GT3 is wide. Akrapovic offers a variety of exhausts from a slip-on kit to a full Evolution Race system. Each of the five systems available also fits on the GT3 RS, so for those people owing a RS-model there is an option as well.
The Akrapovic Evolution aftermarket exhaust system is based on the same layout as the original exhaust system of the GT3 with valve control. A newly developed exhaust manifold with 100 cpsi sports catalysts guarantees an increase in power and torque, as do the newly developed and optimized pre mufflers. But the real plus of this exhaust system is the weight reduction of 17kg, while it maintains the original layout and functionality of the exhaust caps.
An increased efficiency of 12hp at 5,510rpm and torque progression of 14Nm at 5,740rpm is achieved. Optional a rear carbon fiber lip is available, which has also been outfitted to the GT3 shown in the video and the pictures below.