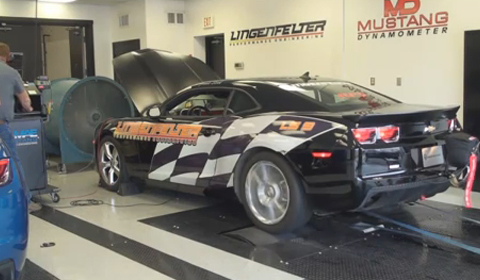 Lingenfelter Performance Engineering is an American high performance tuner offering engine packages and accessories for General Motors vehicles. The company was founded by and named for hot rod driver and engineer John Lingenfelter. They are currently working on the world's fastest Chevrolet Camaro.
Powered via the rear wheels by a massive 7.0 liter (427 cubic inch) engine which is projected to deliver a whopping 1,200 horsepower, the Camaro is set to become the new king of the quarter-mile track.
Although Lingenfelter Performance Engineering hasn't taken this car to the track yet, the video below shows the machine being tested at the dyno with a wide-open-throttle shift from third to fourth with both stages of nitrous in full glory. Notice the influence of nitrous!