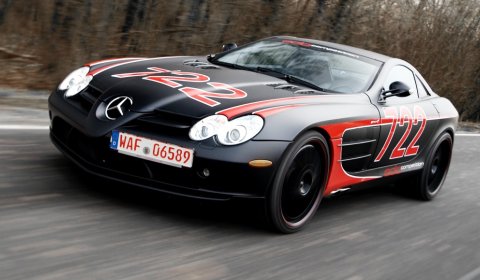 German tuner Edo Competition has released their take on the SLR McLaren, named the Black Arrow. The McLaren SLR Coupe wears a special flat coating and is equipped with a new stainless steel high-performance exhaust system, which provides an impressive soundtrack, and the new edo 21 inch racing wheels shod in high-performance rubber. The interior has been refinished in black with carbon fiber trim.
Bucket seats with leather/alcantara skins, the grippy alcantara steering wheel with shift paddles and custom made carbon fiber pieces for the dashboard, center console and door panels add something extra to the interior. The cabin is further accented with a new custom sound system featuring navigation, phone, TV and iPod integration as well as a reversing camera.
The supercharged V8 engine now puts out 722 horsepower at 7,100rpm and 890Nm of torque. In order to achieve these numbers, the supercharger drive ratio was modified and the ECU was remapped to accommodate the hardware changes. A revised intake system, new exhaust headers, high flow catalytic converters and air filters help the engine breathe better. The powertrain engineers used a dynamometer to build new ECU maps and change the on-board diagnostics system accordingly.
100km/h is reached in just 3.4 seconds and the needle hits the 300km/h mark in 24.5 seconds. The new found power also has an effect on top speed, which now is an electronically governed 345km/h.