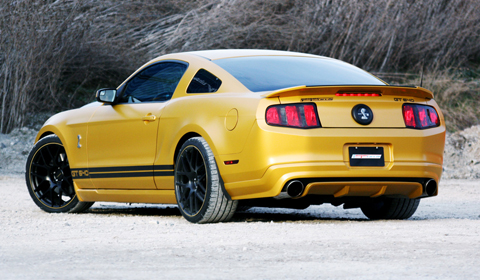 Based on the Ford Mustang Shelby GT 500, US car specialist GeigerCars from Munich has produced the GT640 "Golden Snake".
The 5.4 liter V8 has gained a large 2.3 liter supercharger as well as a Geiger stainless steel sport exhaust system and an ECU update. 640hp, a 92hp increase, is now sent to the back wheels. 789Nm of torque on the crankshaft has been measured. 3.7 seconds to 100km/h and a top speed of 295km/h makes this one of the fastest Mustang's around.
Geiger have fitted a carbon engine bonnet with an air intake channel, skilfully integrated into the engine bonnet. Airflow will be optimally introduced to the combustion chambers. The front spoiler lip is also constructed from carbon fiber, while the remaining body has been finished in matt gold. Contrasting matt black Geiger rims with are available in sizes 8.5×20 inch front and 10×20 inch rear. These are fitted with super Michelin Pilot sport tyres, dimensions 255/35Z R20 and 285/30Z R20.
Adjustable sports chassis from H&R provides optimal grip from the tyres. In addition, the Mustang has been equipped with a high-quality sound system and EU navigation.
This demo vehicle is for sale. The price? € 89,000.