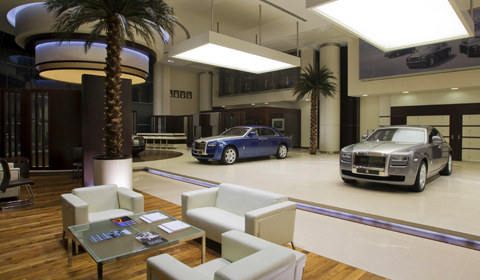 The Middle East is a very important region for Rolls-Royce. Of the 82 Rolls-Royce dealerships worldwide, eight of them are located in the Middle East. The region accounts for 15 percent of Rolls-Royce sales worldwide.
To emphasize the importance of Middle East, the British manufacturer of luxury cars presented the Yas Eagle Rolls-Royce range some time ago. These special editions were specially designed to celebrate the first Grand Prix in Abu Dhabi. Now Rolls-Royce has opened the largest showroom in the world in the Umm Al Nar area in Abu Dhabi, United Arab Emirates.
The new 900 square meter showroom was opened by Torsten Müller-Ötvös, CEO of Rolls-Royce Motor Cars. The showroom provides space for displaying five Rolls-Royce cars, a coffee bar and a customer configuration lounge including colour and trim samples. A service facility is also included and directly linked to the showroom.
To celebrate the opening, Rolls-Royce unveiled a special edition of the Phantom Drophead Coupé. Limited to 100 pieces, this Spirit of Ecstasy Centenary Collection Phantom Drophead Coupé is built to mark the 100th birthday of the Spirit of Ecstasy, the famous figurine hood ornament.
These limited Collection cars were designed with a suite of bespoke design details including a special white-on-black double-R badge, Spirit of Ecstasy inspired coachlines and an inscribed figurine bathed in white light emanating from its base. Many collectors from around the world have shown interest in this car. It shouldn't be a surprise many of them are coming from the Middle East.