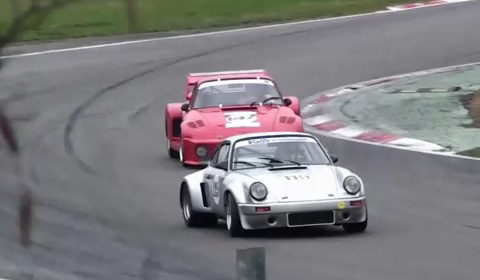 Every year historic GT and Touring cars compete in a dedicated championship. Last weekend a championship race took place at the Monza Autodrome in Italy. Among the participating GT and Touring cars were a De Tomaso Pantera, Lancia Beta Montacarlo, Porsche 911 RSR, Porsche 935 Turbo, BMW 2002 Schnitzer and many others.
The video shows the cars coming through the long sweeping chicane, which is one of the hardest bits of the track to master. We see a De Tomaso Pantera and a few other cars spin. After the chicane all cars go full throttle towards the famous Parabolica corner leaving an amazing sound for the spectators.
In the end some people should learn the rules of racing! Yellow flag universally requires drivers to slow down due to a hazard on the track. Some of these racings drivers aka lunatics decided differently.