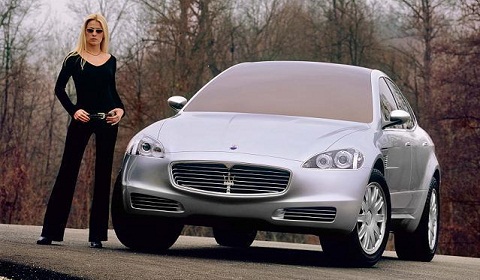 Insideline.com has released an in-depth overview of the future expansion of the Maserati brand. A successor to the Quattroporte is expected later this year and the Italians are working on a smaller sedan, as well as a luxury crossover. The three new models should lift the sales to around 20,000 units on an annual basis.
The Quattroporte replacement, code-named M156, is likely to be unveiled at this fall's 2011 Frankfurt Auto Show. The in-house design will resemble the current GranTurismo coupe and convertible. An improved version of the existing 4.7 liter V8 is the first engine to be revealed with others to follow soon. The positioning of the vehicle will find its way next to competitors like the Aston Martin Rapide and the Porsche Panamera.
The smaller sedan, code-named M157, will not be launched until closer to 2014, according to Insideline.com. Price target for this entry-level model is around $ 75,000 making it a direct competitor to higher-end Audi A6, BMW 5 Series and Mercedes E-Class models.
In 2012/2013, the company also plans to offer a luxury utility vehicle. The premium SUV is likely to share parts with both Jeep and Alfa Romeo models, although having its own distinctive Italian style.
Stay tuned for more regarding Maserati and its expanding line-up of luxury vehicles.