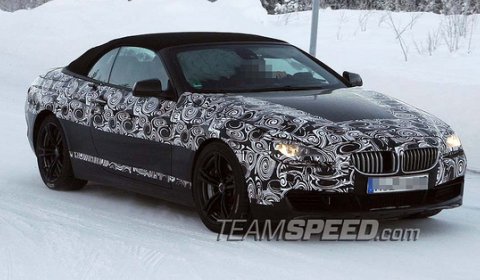 It is a known fact that the 2013 BMW F13 M6 Convertible is being tested as we speak. A Teamspeed photographer CarPix came across the vehicle while winter testing.
The BMW F13 M6 Cabrio is expected to be revealed in September 2012, ahead of the 2012 Paris Motor Show. The 2013 M6 is expected to share the same engine as the upcoming F10 M5, the turbocharged eight-cylinder powerplant from the X5 and X6 M.
This M6 prototype is sporting the production M6 bumper underneath heavy front signature BMW camouflage. Other typical M features seen here are the quad exhausts and massive front brakes. The wheels seen here are mostly likely winter wheels/tires only for testing purposes.