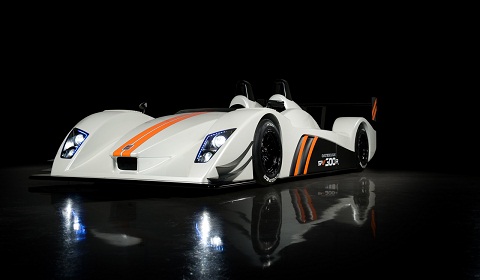 Caterham have unveiled their first completely new car for 17 years, the SP/300R. The Le Mans-style prototype model is confined to the track for the moment, however, Caterham are looking into producing a number of road-going versions. As you'd expect from such an extreme looking car, Caterham are also looking to launch a spec racing series built around the vehicle as well.
The car has come as part of a joint venture with racing specialists Lola. Caterham have secured the use of a supercharged 300bhp Ford Duratec engine connected to a semi-automatic gearbox. The car will weigh less than 600kg, so a 0-60mph time of 2.5 seconds and top speed of 170mph will be possible.
Lola have taken responsibility for the chassis design. The SP/300R features an aluminium tub with a longitudinally mid-mounted engine coupled to a stress-bearing rear transaxle. Downforce is applied through the use of a flat underbody, front splitter and large rear wing.
Front and rear double wishbones with pushrod dampers, adjustable ride height and bespoke tyres are key to the cars handling. It is said that the cars handling characteristics will be similar to those of those of the 'Seven'.
Only 25 examples of the £ 60,000 (€ 71,800) machine scheduled to be built per year and the order books are already open. The car was on display at the Autosport International in Birmingham, England last week.