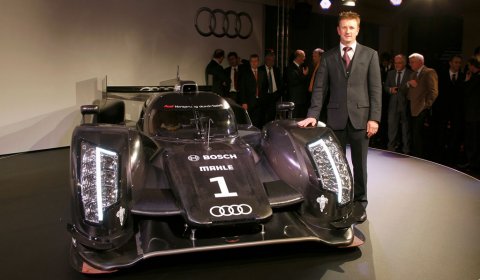 The German car maker from Inglostadt revealed the new Audi R18 at the end of last week. The endurance racer will enter testing on April 24th, 2011, at Le Mans, before its first race on May 8th, 2011, at the 6 hour race at Spa-Francorchamps. On June 11 and 12, 2011, the Audi R18 will compete in the Le Mans endurance race for Audi's tenth Le Mans success.
Significantly smaller engines than those used before will be prescribed at Le Mans in 2011 as the rule makers aim to achieve a substantial reduction of engine power. By opting for a 3.7 liter V6 TDI unit, Audi retains the diesel concept that saw its first victorious fielding in 2006. Another new development is the six-speed transmission in the Audi R18 which has been specifically modified for use with the smaller engine.
The Audi R18's headlights, which are the first to completely consist of LEDs with optimized amount of light, are a technical highlight. Audi's light designers had the chance to make their mark on the development as well: The LEDs of the daytime light form the shape of a "1" which is intended to inspire associations with Audi's historic brand logo.
Audi is planning to field three Audi R18 cars at Le Mans, which will be entered by Audi Sport Team Joest. In addition, Audi Sport Team Joest will contest the Intercontinental Le Mans Cup (ILMC), consisting of a total of seven endurance races on three continents (including the Le Mans 24 Hours) with two cars. At the opening race at Sebring on March 19, the team will use two "R15 plus plus" cars.