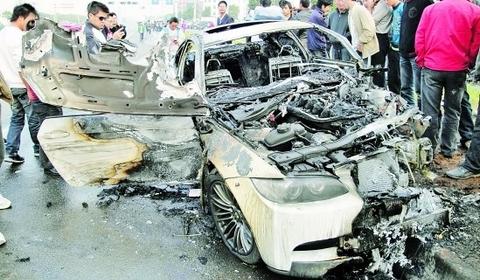 The news just appeared recently, but about two weeks ago in Zhejiang Yiwu Xuefeng, China, a street race ended with two crashed sportscars. The Porsche 997 Turbo and the BMW E92 M3 crashed at the West Road and Lotus Street intersection.
The Porsche is badly damaged but can be repaired, the BMW on the other hand burned down and is ready for a junkyard. The specific cause of the accident isn't known yet, but a witnesses speculated that the two vehicles were travelling more than 155km/h (95mph) so it seems like the two cars were racing each other.
Although the impact was very intense both drivers didn't suffer any major injuries. During the aftermath a reporter arrived at the Yiwu City hospital, where one of the drivers surnamed Huang, 25, stayed in a VIP room while holding Ferrari keys in his hands, ready for a new race.