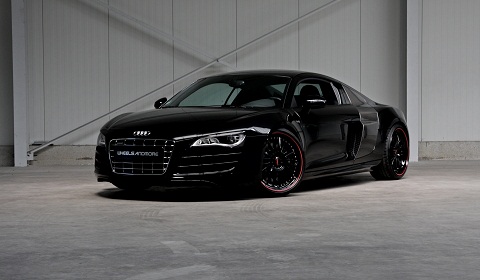 A while back, we saw what Wheelsandmore could do with the V8 version of Audi's supercar – the R8. This time around, the German tuner have produced a package for the V10 model boosting power, a new suspension kit and a fresh set of alloys. It's quite an understated package but we think it's definitely worth a look.
Power upgrades have been achieved through an € 8,500 Stage II tuning kit adding a 75hp to produce a total output figure of 600hp. Torque figures are increased to 590lb-ft and a top speed of 335km/h (208mph) is claimed. As part of the upgrade, a handcrafted special stainless steel, valve controlled exhaust system and an ECU upgrade are applied. The modifications are expensive but Wheelsandmore assure us of the system's quality.
An adapted KW race suspension kit has been fitted to this car. It includes a special coil-over with adjustable rebound and compression and a hydraulic lift system, lifting the car off the ground by around 1.77 inch. This costs € 7,349.
The final modifications to this car are the 'C-Sport' alloys, available sized 9,0×20 with Continental Sport Contact III tyres 235/30/20 at the front and a 11,0×20 with 295/25/20 tyres at the rear. There are a number of options other than these wheels. Prices start around € 7,259 for Wheelsandmore rims and go up to € 21,500 for 6Sporz megalight forged alloys.
Overall, the modifications made to this car are quite costly, however, we like the look it's created! Let us know what you think using the comments box below!