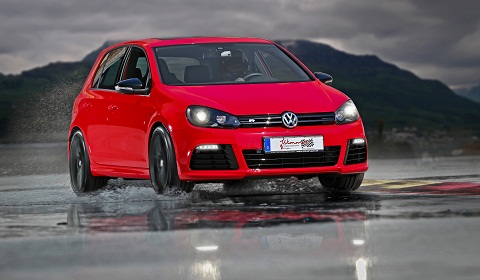 Normally, we wouldn't present a story about a Volkswagen Golf. But when a tuning company presents a model that produces 478hp, we think you might want to hear about it!
Wimmer RS have given the sixth generation Golf 'R' a stage V tuning kit. The list of upgrades is extensive and includes modifications to the ECU, tuning of the turbocharger, injection nozzles, connecting rods, lamp coatings, cylinder heads, a larger intercooler, changes in the air intake system and a new air intake pipe. A new crank shaft has been installed with another oil pump, a second low pressure fuel pump and sport camshafts are also included as well as a completely new, handmade high-grade stainless steel sports exhaust system measuring 84mm in diameter.
As a result, the Golf 'R' sees hp gains from 270hp right up to 478hp giving a power to weight ratio of 3.04kg per hp. Torque rises from 350Nm to 610Nm and top speed is delimited to 290km/h (180mph).
Modifications to the handling include a coil spring set and helical spring set which moves the car lower to the ground. A high performance brake system is also available as an option to the customer. There aren't any styling changes meaning that this Golf R is about as stealth as they come!
This might possibly be our choice as an everyday tuning car! Let us know what you think in the comments box below!