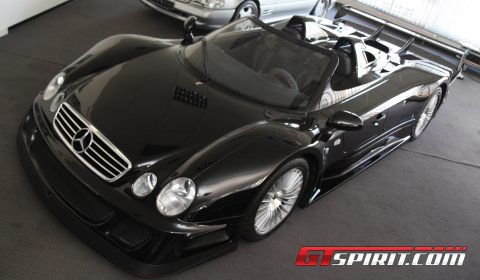 Sometimes there are days you experience the unexpected. Like 'finding' one of the most special cars in the world. A true one-off not a lot of people in the world have seen before. The same happened to the GTspirit team while visiting Leonberg, Germany last thursday. Parked at a supercar dealership named Griesheimer & Eisele GMBH we spotted the only Mercedes-Benz CLK-GTR Roadster in Black on this planet.
The Mercedes-Benz CLK GTR is a grand tourer and race car that was built by Mercedes-AMG. Intended for racing in the new FIA GT Championship series in 1997, the CLK GTR was designed primarily as a race car, with the road cars necessary in order to meet homologation standards being secondary in the car's design. A total of five CLK-GTR Roadsters were made in a limited edition in 2001. Four are silver, and only one is black.
The Guinness Book of World Records recorded the CLK GTR as the most expensive production car ever built at its time. The car shown in this post is for sale at a price tag of € 1,605,000. Interested, please contact us!